SwitchPoint Lead-up Events

An Evening with Serge Attukwei Clottey
Tuesday, April 23, 2019 from 5:00 – 8:00 PM at Northstar Church of the Arts for an event featuring SwitchPoint presenters Serge Attukwei Clottey and Fati Abubakar showcasing art, fashion, photography, and activism. This free event is sponsored by Duke's Forum for Scholars and Publics and is open to the public.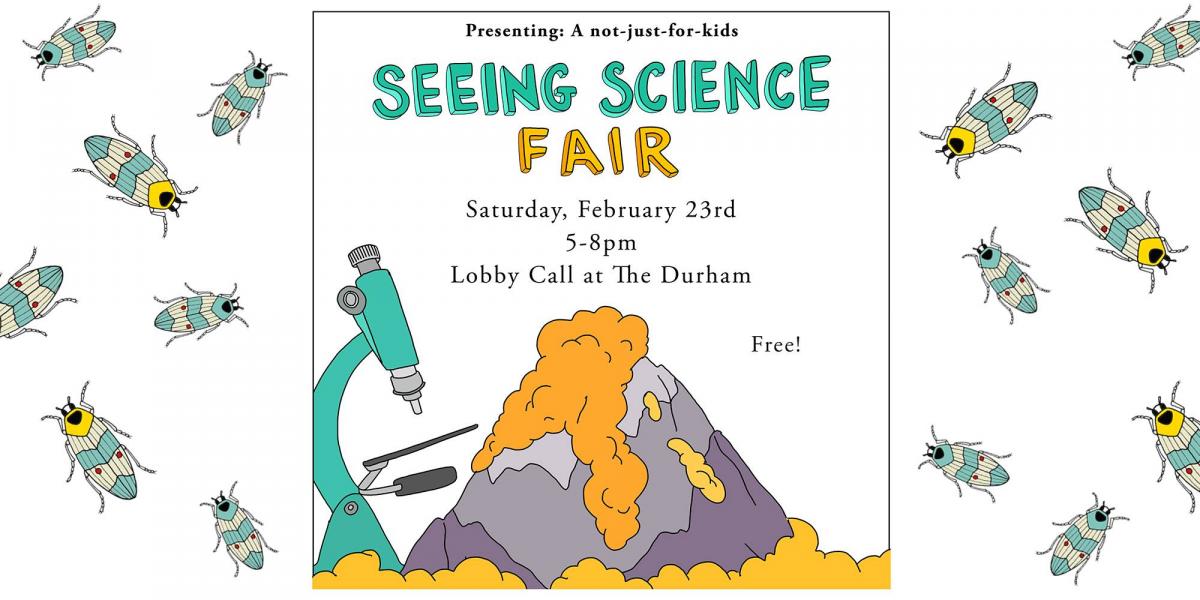 SwitchPoint at the Seeing Science Fair
Saturday, February 23, 2019 at 5:00 – 8:00 PM at The Durham Hotel. There'll be nostalgia galore alongside 21st century curiosities at this pop-up playground of interactive exhibits and experiments. Visit SwitchPoint's display to assemble Foldscopes, experience wearable tech, and play a choose-your-own-contraceptive adventure with our special guest, Male Contraceptive Initiative. We'll even be joined by a SwitchPoint mad scientist!
SwitchPoint Game Slam!
How can serious games lead to greater collaboration and understanding? How does play force us to think creatively? And what's the pedagogical value of fun and competition?
Join us on Tuesday, January 30, 2018 from 5:30–7:30 PM at the Haw River Ballroom for a SwitchPoint Game Slam. Jonathan Estes of Smart Game Systems will take us on a 90-minute experiential walk-through of table top and digital game development, and then we'll work together to contribute key concepts for a new game. Join us and learn how to incorporate a game-based approach into your work. Oh, and we'll also have ping pong tables set up to get your game juices flowing.
---
SwitchPoint DJ Battle: Robot vs. Human
It's no secret that robots can smoke humans at repetitive tasks and crunching data. But artificial intelligence still can't account for context and nuance the same way humans can.
Join us on December 12, 2018 from 5:00 - 7:00 PM for a hilarious test of humans and robots as they go head-to-code in a musical battle at the Pinhook . IBM's Watson will battle Pinhook's Kym Register to make custom beats that illuminate attendees' personalities. Does it take big data or big heart? You decide. Come listen, dance, vote for the best beat mixes, and hear from SwitchPoint alum Phaedra Boinodiris about what's ahead for AI when it comes to social good, gaming, creativity, education, and the future of work. Free and open to the public. Drinks available for purchase.
---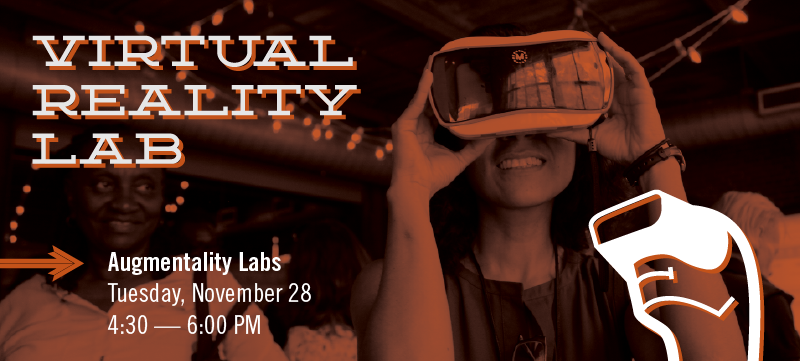 SwitchPoint Virtual Reality Lab
Virtual reality is so much more than entertainment. Its potential for education, research, and social change is exponential.
Join us on Tuesday, November 28, 2018 from 4:30 - 6:00 PM for a sneak preview of Augmentality Labs, the first VR arcade in Durham. Come immerse yourself in the larger implications of this simulated technology for health, education, the arts, and global development. And while you're waiting for your turn, you can play some Nintendo 64 and have a real-world snack. Admission is free and open to the public.
---
Wearables, Drones, and Disaster Relief
Join us October 4, 2018 from 5:30 - 7:30 PM for a SwitchPoint happy hour at Orange County Social Club. What if drones and wearable devices could help first responders deliver better aid to more people? Join SwitchPoint alum and senior clinical informaticist at RTI International Robert Furberg to see, play with, try on, and discuss the impact of drones and wearable technology. (Hint: It's more than counting your steps). Get a preview of SwitchPoint 2018 and a glimpse into how modern technology could transform health, humanitarian response, and disaster relief.
SwitchPoint Happy Hour at Ponysaurus
Join us for a SwitchPoint happy hour at Ponysaurus Brewing Co. Tuesday, March 29, 2016 from 5:30 – 7:30 PM. Meet the conference organizers, other potential attendees, and some of this year's presenters. Build with Legos, play JaidedAid, and enjoy a tasty beverage. What two things will you put together to make things better?
Drones, Design, and Drinks 
Join us Tuesday, February 16, 2016 from 5:30 - 7:30 PM for a SwitchPoint happy hour at The Roof at The Durham.  Get there in time to see a drone, courtesy of Ted Richardson Media, filming the scene and buzzing the rooftop. Grab a drink at the cash bar, mingle with SwitchPoint alumni from near and far, and don't be surprised if the Sacrificial Poets erupt in a spontaneous and moving performance. Tinker with some tech innovations, see the latest designs from Miraclefeet, and show us your next great idea to save the world using Legos. Admission is free and open to the public. 
SwitchPoint Maker
Join us December 9, 2015 from 6:00 – 8:00 PM for SwitchPoint Maker—an informal gathering at HQ Raleigh featuring speakers from the global SwitchPoint conference, Forward Impact, Betaversity, and Makers Guild. We'll be talking about incredible inventions and humanitarian design, watching a mini-MacGyver film fest, drinking beer, eating pizza, making connections, and building phone chargers out of Altoids tins for everyone to take home. Share your great ideas and local initiatives. Make connections. Learn more about SwitchPoint 2015. Use your good ideas to make a difference.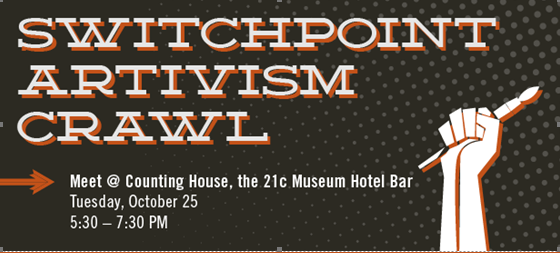 SwitchPoint Artivism Crawl
Join us for the SwitchPoint Artivism Crawl on October 25, 2016 from 5:30 - 7:30 PM. Hop on Culture Mill's biodiesel bus for a tour through some of Durham's community art locations. Get to know each other and learn more about activism, global perspectives, and innovative initiatives for social good and social enterprise. Get a sneak peek at topics and speakers for SwitchPoint 2017 and talk with IntraHealth International's SwitchPoint team about ideas and people you'd like to see onstage this year. Pitch yourself or people you admire!
 
For information about our SwitchPoint Exchange events please click here.