SwitchPoint Exchange Rwanda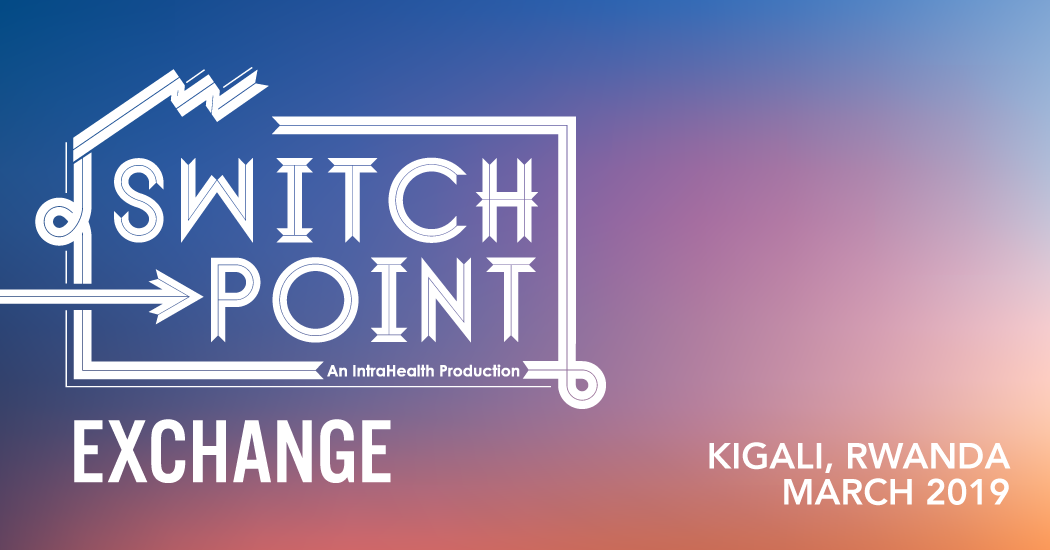 Team SwitchPoint is traveling to Rwanda for the Africa Health Agenda International Conference (AHAIC) to present a partner workshop. 
SwitchPoint Exchange: Health Data, Activism, Art, Communication, and Unusual Collaborations
Date:
Wednesday, March 06, 2019 from 10:45am-12:15pm CAT
Location:
Room MH1
Presentation details:
During this interactive session attendees will hear from artists, activists, and global health professionals who are expanding the definition of health and the players who can help make universal health coverage a reality. Drawing from the format of the annual SwitchPoint conference, attendees will first hear from a dynamic group of presenters before breaking out into smaller groups for microlabs, each with a different focus. The session with conclude as a unified group participating activity that showcases the importance of data, advocacy, art, and innovation in finding solutions to diverse health challenges.
 
Microlabs
Making it Digital: Data to Inspire

Presenters: Samson Radeny, Delphine Uwamahoro, Andrew Kitua  
Description: From digital health records to strategic health systems how are leading health organizations designing sustainable solutions and methodologies to build capacity and strengthen the value of health workers? Speakers will focus on promoting community- and data-driven solutions to influence and strengthen national systems and implementation strategies.
Making it Real: Health Worker Advocacy

Presenters: Vince Blaser, Sanele Madela, Mathew Thuku
Description: From strikes in the field, to halls of government, to challenges on the frontlines, hear from health workers and international policy advocates about addressing workforce-related barriers to achieving universal health coverage and SDG 3 Global Action Plan. How can the global health community help health workers have the greatest impact? Let's get real.   
Making it Different: Art + Activism 

Presenters: Hope Azeda
Description: Join local Rwandan art leaders to learn how they are using every medium necessary to express big ideas about the direction of the world and drive popular culture, policy, economics, activism, inclusion, and engagement. Arts make you human.
 

Samson Radeny is a senior international development professional with 20+ years of experience developing and implementing health and social development programs. He has honed an exceptional balance of technical, leadership, and managerial skills over the course of his career, overseeing multi-sectoral projects in more than ten African nations. Samson is highly skilled in designing and executing programs to catalyze change in host communities, positioning local organizations to lead and sustain results. Prior to joining IntraHealth, Samson served as chief of party of the USAID/Rwanda Improved Services for Vulnerable Populations (ISVP) Program, which aims to promote resiliency among highly vulnerable communities and families. 

Delphine Uwamahoro is the country director for The Ihangane Project and such leads a dynamic team of Rwandan innovators who work hand-in-hand with communities to co-create solutions to achieve their health goals while also strengthening national health systems. In her current role, Delphine serves as a liaison between The Ihangane Project, local, regional, and national government officials, and other non-profit organizations. Previously Delphine served as the coordinator of the nutrition for HIV-exposed Infants program. Delphine is a passionate advocate for community-driven solutions and speaks eloquently about techniques for building community ownership of health systems, promoting healthy behavior change and the influence of hope on quality of care and health outcomes. 


Andrew Kitua is an epidemiologist and current Africa region director of the USAID/EPT2 Preparedness and Response project implemented by DAI. Andrew is a former lead malaria research at the Special Programme for Research and Training (TDR), WHO, and former Director General of the National Institute for Medical Research in Tanzania. He has chaired many national and international scientific committees including the Developing Countries Coordinating Committee of the European and Developing Countries Clinical Trials Partnership. He is also a former member of the advisory committee of the Global Forum for Health Research (GFHR) and the Council on Health Research for Development and holds memberships to several research societies.

Vince Blaser is director of the Frontline Health Workers Coalition, an alliance of United States-based organizations working together to urge greater and more strategic U.S. investment in frontline health workers in the developing world. IntraHealth International is a founding member and houses the secretariat of the coalition.


Sanele Madela was born in Dundee Sibongile Township and now holds a medical degree from Instituto Superior de Ciencias Medical de Villa Clara (Cuba) and Stellenbosch University (South Africa). Sanele is the founder of Expectra 868 Health Solutions, a non-government organization in South Africa focused on community health work. Sanele was awarded the 2013 MEC Annual Excellence Award for his contribution to community based medical education and advocacy of primary health care. Senele is also the CEO & medical manager at Pomeroy CHC, Project Lead for HealthRise South Africa, and two-time winner of KwaZulu-Natal, SA, Health MEC's Annual Service Excellence Awards.


Mathew Thuku is a health system strengthening and organizational development specialist with 18+ years of experience. He joined IntraHealth International in 2011 and has supported successful implementation of three human resources for health (HRH) projects. Matthew has played a critical role in advocacy for frontline health workers (HWs) and institutional capacity development towards improved HWs management. Particularly, he was instrumental in supporting Kenyan government devolve management of HWs from a centralized to decentralized system in 47 County governments. He contributed to HRH policy development, structures and system, capacity building of health sector leaders in HR leadership, initiation of HRH coordination amongst various stakeholders, development and implementation of Kenya Health Sector HRH Strategy, and participated in the formulation and implementation of the Kenya HRH Commitments declared during the 3rd Global HRH Conference. 

Hope Azeda is the founder and artistic director of Mashirika Performing Arts and media company. Under her direction, the group collaboratively created Africa's hope, which was performed at the 10th anniversary commemoration of the genocide. Hope's work as a writer and director has taken her to many theaters and universities around the world. She has also been an artist in residence at the Institute for the Arts and Civic Dialogue in Cambridge Massachusetts, is an alumni of Brown University International advanced research institute, and a member of the Lincoln Center Theater Directors Lab. Hope is currently the curator of UBUMUNTU ARTS FESTIVAL, was recently honored as a Laureate of the John. P. McNulty prize 2018, awarded a lifetime award by MAAFA, and is also the winner of the continental award for arts and culture 2018/19 honored by CEO Global. 
Learn more about IntraHealth's participation at AHAIC here.