SwitchPoint 2018 Lead-up Events
Join us: SwitchPoint Game Slam!
How can serious games lead to greater collaboration and understanding? How does play force us to think creatively? And what's the pedagogical value of fun and competition?
Join us Tuesday, January 30, 5:30–7:30PM at the Haw River Ballroom for a SwitchPoint Game Slam. Jonathan Estes of Smart Game Systems will take us on a 90-minute experiential walk-through of table top and digital game development, and then we'll work together to contribute key concepts for a new game. Join us and learn how to incorporate a game-based approach into your work.
Oh, and we'll also have ping pong tables set up to get your game juices flowing.
---
SwitchPoint DJ Battle: Robot vs. Human
It's no secret that robots can smoke humans at repetitive tasks and crunching data. But artificial intelligence still can't account for context and nuance the same way humans can.
Join us for a hilarious test of humans and robots as they go head-to-code in a musical battle at the Pinhook, December 12, 5:00 - 7:00 PM. IBM's Watson will battle Pinhook's Kym Register to make custom beats that illuminate attendees' personalities. Does it take big data or big heart? You decide.
Come listen, dance, vote for the best beat mixes, and hear from SwitchPoint alum Phaedra Boinodiris about what's ahead for AI when it comes to social good, gaming, creativity, education, and the future of work.
Free and open to the public. Drinks available for purchase.
---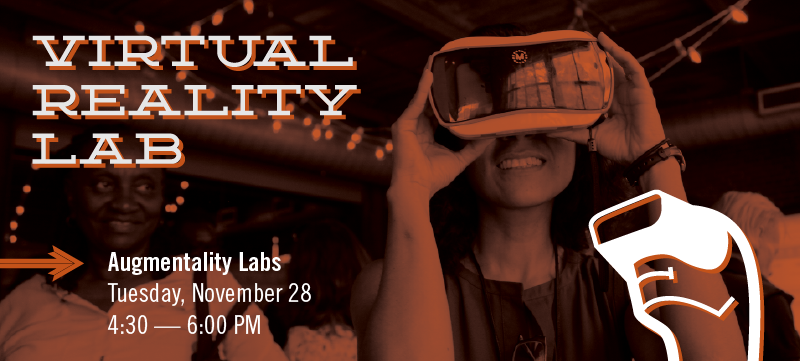 SwitchPoint Virtual Reality Lab
Virtual reality is so much more than entertainment. Its potential for education, research, and social change is exponential.
So join us and the SwitchPoint community for a sneak preview of Augmentality Labs, the first VR arcade in Durham. Come immerse yourself in the larger implications of this simulated technology for health, education, the arts, and global development.
And while you're waiting for your turn, you can play some Nintendo 64 and have a real-world snack.
Admission is free and open to the public.
---
Wearables, Drones, and Disaster Relief
Join us October 4 for a SwitchPoint happy hour at Orange County Social Club.
What if drones and wearable devices could help first responders deliver better aid to more people?
Join SwitchPoint alum and senior clinical informaticist at RTI International Robert Furberg to see, play with, try on, and discuss the impact of drones and wearable technology. (Hint: It's more than counting your steps). Get a preview of SwitchPoint 2018 and a glimpse into how modern technology could transform health, humanitarian response, and disaster relief.
Admission is free and open to the public. Drinks available for purchase.