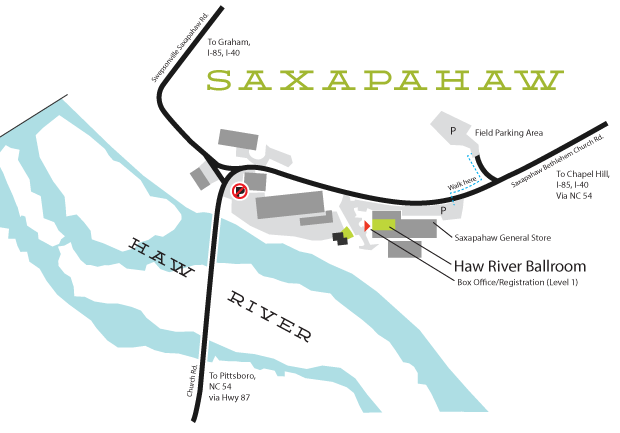 Get to know people who are changing the world at SwitchPoint. We chose Saxapahaw because of its unusual nature and its proximity to North Carolina's Research Triangle Park, the Triangle, and the Triad. A nationally recognized model of unexpected collaborations and partnerships, Saxapahaw is a living model of a SwitchPoint. The former mill town redefines the word rural with a renaissance that fuses art, music, farming, food, recreation, education, environmental sustainability, and locavore ethics. This tiny community's story has been chronicled in The Washington Post and The New York Times. Providing a retreat-like atmosphere, Saxapahaw's location allows for riverside lunch sessions and post-conference kayaking. It is also home to an outdoor amphitheater and an award-winning, state-of-the-art performance space, the Haw River Ballroom, where the conference is held.
Saxapahaw is approximately 20 minutes from Chapel Hill, 30 minutes from Durham, 40 minutes from Raleigh and Greensboro. View Map
Parking
Please park in the designated meadow across the street from the Ballroom (see diagram above). Parking attendants will be onsite to direct you.
Meals
Breakfast and lunch are included in your conference registration. Breakfast will be catered by the Saxapahaw Catering Company and lunch will be catered by the Eddy Pub. Local dinner options for Thursday and Friday nights include The Saxapahaw General Store and the acclaimed Eddy Pub. Picnic down by the river, enjoy a coffee from Cup 22 on the Ballroom deck, or grab a beer from Haw River Farmhouse Ales.
Accomodations
We have negotiated a discount hotel rate at the Hyatt Place Durham Southpoint. Guests can book a room directly for the discount rate of $105/night via this link: https://durhamsouthpoint.place.hyatt.com/en/hotel/home.html?corp_id=G-IN...Group Code G-INTH or call the hotel directly at 919.688.7800 and choose option "0" to speak with a reservation team member.
About the Conference
SwitchPoint is an unusual gathering of global thinkers merging ideas, sharing breakthroughs, and finding solutions to save lives in the developing world. Participants can explore how the latest inventions, innovations, entrepreneurial ideas, and principles can dramatically increase global health equity. Dress is casual; the conversation won't be.
For over 35 years, in more than 100 countries, IntraHealth International has empowered health workers to better serve communities in need. IntraHealth improves the performance of health workers and strengthens the systems in which they work. http://www.intrahealth.org/
The Haw River Ballroom is a beautiful, award-winning space set in the former dye house of Saxapahaw's historic cotton mill. The ballroom features three levels, a riverside deck, a concessions bar and coffee shop, a full-service stage and sound system, gorgeous historic detail, solar and geothermal power, and an idyllic rural setting just minutes from Chapel Hill. There is just no other place quite like it. http://www.hawriverballroom.com/